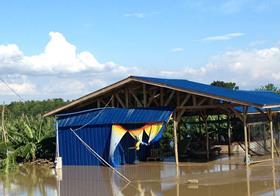 Philippine banana exporters will still be able to fulfil export commitments to key markets despite the damage from Typhoon Bopha, according to the country's Department of Agriculture.
Exports to Japan, South Korea and New Zealand will continue, albeit at a lesser volume, said Agriculture Secretary Proceso Alcala.
"They will have lesser deliveries. This can be explained to clients because the destruction is caused by force majeure," he told local media.
Development of new markets is likely to suffer, however. Dole Philippines last month cancelled a scheduled 3,000 tonne delivery to the US, the first significant export to the recently-opened market, instead reserving the volume for core markets.
A recovery pathway is being laid out for growers impacted by the typhoon, known locally as Pablo.
Major Japan-headquartered grower-exporter Sumifru Banana Corp has signed a tripartite agreement with the Land Bank of the Philippines and growers in damaged areas on a P2.1bn (US$51.3m) loan package for plantation redevelopment.
"They will be our conduit to ensure that interest rates will remain single-digit," said Alcala.
The agreement sets the interest rate on the loan at 6 per cent for 10 years, with a two-year moratorium on payment of principal and interest for borrowers. Growers will be able to take out loans of P430,000 (US$10,500) per ha, reported the Philippine Star.
Estimates of the damage caused to the Philippine banana industry have now risen to P22.23bn (US$544m), with the storm damaging 50,096ha of banana plantations, reported the Star.