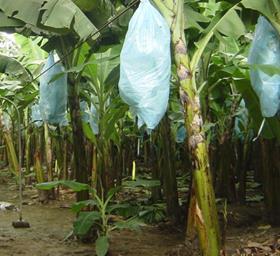 The Philippine government is investing millions in two new banana packing facilities in Davao del Norteto help small-scale grower-shippers meet international packaging standards, reports the Business Mirror.
The Department of Agriculture (DA) said the two banana packing facilities, costing PHP3.1m (US$0.073m) each, will be situated at Barangays Kinnamon and Casig-an, both in Davao del Norte.
"The amount will come from the President Aquino's Social Fund which allotted PHP50m (US$1.17m) to construct new packing facilities and upgrade existing ones to enable small banana farmers comply with international sanitary and phytosanitary standards `SPS`," said Agriculture Secretary Proceso J Alcala in a statement.
The DA said it will coordinate construction of the packing facilities with the Mindanao Banana Farmers and Exporters Association (MBFEA).
Alcala urged the "big players," or members of the Philippine Banana Growers and Exporters Association (PBGEA) to share their technologies and good agricultural practices with the small-scale growers and exporters, to boost productivity and meet stringent export standards.
He said the DA will also provide them technical and marketing assistance, and training through the BPI, Agribusiness and Marketing Assistance Service (AMAS), and High Value Crops Development Program.
Meanwhile, Alcala said the DA, represented by AMAS Director Leandro Gazmin and officers of the MBFEA and PBGEA, along with trade industry officials are embarking on a trade mission to explore new export markets for Philippine bananas.
The Philippine trade contingent left last week to visit the Middle East, Belgium, the Netherlands and Italy, he said.
Manila is investigating other markets for local bananas following the rejection of large shipments to China due to pest infestation.