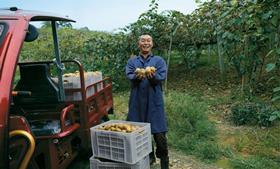 Pinduoduo has set its sights on selling more than US$145bn of farm produce in 2025, a target representative of its efforts to help digitise the country's agriculture sector.
According to a report from TechCrunch, the company set the target following the release of its results from the second quarter of 2020.
Chen Lei, chief executive of Pinduoduo said on the earning call the company wanted to bring small farms together to create scale.
"We combine consumer demand on our platform [to] create scale, and we can leverage consumer insights we gain to help farmers make more informed decisions across planting cycles, including what to plant and when to harvest," Lei said.
Pinduoduo plans to leverage its group buying service to achieve this growth, in its annual report released in April 2020 the company described how the service can create efficiency.
"We find it an effective solution to aggregate consumer demand, match them with batches of agricultural produce, and mobilise China's well-penetrated and affordable logistics capability to have perishable and fresh produce shipped directly from farms to users and bypass multiple layers of distribution," the report said.
"This not only enhances user experience, but more importantly, helps to turn small scale agriculture production of different quality, variety, and volume into a semi-customised batch processing mechanism."