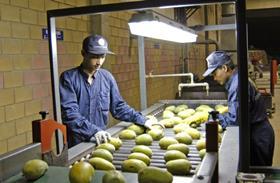 Pakistan's fruit and vegetable sectors are suffering post-harvest losses of 30-40 per cent because of poor handling and a lack of cold storage, according to the chairman of the Pakistan Agricultural Research Council (PARC), Dr Muhammed E Tusneem.
Dr Tusneem told a conference on climate change earlier this week poor infrastructure and technology were the cause of the high losses, and said mismanagement and ineffective government involvement had not helped, reported Associated Press Pakistan.
"We are expecting bumper crops this year, owing to timely rains," Dr Tusneem said. "The concern of farmers is the non-availability of resources, as a glaring deficiency exists in public services."
"The problem is not the generation of technology, as the fault lies in transfer of technology. Scientifically designed storage can reduce post-harvest losses to 10 per cent."
The Second National Training Session on Climate Change, organised by LEAD Pakistan, attracted a number of experts on climate change and development impacts on Pakistan's agriculture sector.
Dr Mohsin Iqbal, head of Pakistan's Global Change Impact Studies Centre's agriculture section, agreed with Dr Tusneem.
"We are suffering from mismanagement and resources constraint. A major part of our fruit is lost during picking, packing and transporting stages of fruit," he said.
On the climate change front, Dr Mohsin said developing countries were among the worst affected by climate change, and rain-fed, coastal and mountainous agricultural regions would be adversely affected.
Dr Tusneem stated a move to intensive agriculture in Pakistan was needed to mitigate the problems poor farmers face with fluctuating production levels.
A major watercourse improvement project could also reduce water losses by 10-15 per cent, Dr Tusneem said.