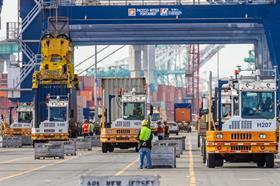 A challenging international trade landscape didn't stop the Port of Los Angeles from handling near record cargo volumes in 2019.
Speaking at the annual State of the Port event, hosted by the Pacific Merchant Shipping Association, the Port of Los Angeles' executive director Gene Seroka said a total of 9,337,632 TEUs (twenty-foot equivalent units) passed through the transport hub's terminals last year. While the figure was down on the 9,458,749 TEUs handled in 2018, it was marginally short of being the second-busiest year in the port's 113-year history.
"In the face of lagging exports due to international trade tensions and tariff uncertainties, the Port of Los Angeles has maintained strong momentum and kept cargo flowing," Seroka said.
"This feat was only possible because of the extensive cooperation and continued efficiency improvements by our terminal operators, supply chain partners and longshore workforce."
Seroka also outlined a number of initiatives that will take shape at the port in 2020 and beyond. This includes the planned launch of the US' first terminal efficiency incentive programme. In conjunction with a new Port of Los Angeles truck reservation system also planned for this year, the efficiency initiative will tie improvements in truck turn times to a port incentive reward programme.
"Depending on the percentage a terminal can reduce truck turn times, they will be monetarily rewarded on each container unit. The higher the percentage of reduction, the bigger the reward," Seroka said.
Seroka also announced the launch of the Port of Los Angeles Labor Collaborative, a new port-driven workforce development initiative focused on identifying specific employment and training needs within the port's ecosystem.
Technology infrastructure as another key theme of Seroka's presentation, as the port works to accelerate digital transformation of the supply chain by creating a port community system to connect critical cargo data points. The port continues to be recognised as one of the US' leading digital "Smart Ports", with its Port Optimizer online information portal continuing to gain ground. The system covers 95 per cent of all the containerised cargo flowing through the port.