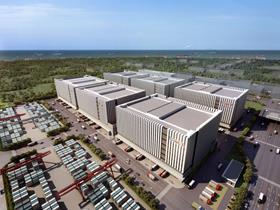 South China's Port of Nansha is expanding its facilities, building a mega-warehouse complex that will encompass six eight-story buildings with a combined storage capacity of nearly 500,000 tonnes.
According to a report by Ajot 100, phase one of the new construction at the port – which is among the world's five busiest container ports – is on track to be completed by March 2021.
The Nansha International Logistics Centre site adjoins the port's expanding automated terminal facilities and is proximate to the bustling Jiangnan Fruit Market in Guangzhou and key population centres throughout the Pearl River Delta, from Shenzhen to Hong Kong and Macao.
Chris Swartz, director of global transportation and logistics service for AJC International, said never has safe, expedient cold chain logistics been more crucial than today, citing the impacts of Covid-19, African swine fever virus and other infectious diseases.
Among fresh cargos already enjoying expedited customs clearance and rapid transit to market via Port of Nansha are cherries from Chile and citrus fruits from the US west coast.
The addition of the new cold chain logistics hub promises to further enhance productive service levels and dramatically expand opportunities through integrated one-stop offering of such functions as inspection, storage, processing, repackaging and distribution, all within specific temperature-maintained environments.
Speaking with Ajot 100, Swartz said cold supply chain has long been underserved and underinvested on a global basis, and he sees the latest infrastructure endeavor at the Port of Nansha as a much-needed game-changer, a win-win proposition benefiting cargo owners and consumers alike.
Overall, the three-building first phase of the cold logistics complex, comprising 305,000m2, represents an investment of Rmb1.87bn (US$260m) and is to deliver a warehousing capacity of 230,000 tonnes, according to John Painter, chief executive of Guangzhou Port America.
The three-building second phase is similar in scope, bringing total investment to more than US$500m and overall capacity to 460,000 tonnes.
Alongside the new mega-warehouse hub, a fourth fully automated marine terminal is being built to boost the port's contingent of ship-to-shore cranes to 78 from the current 65, while soon-to-be-completed on-dock rail access augurs to furnish direct train links to such inland cities as Changsha, Wuhan, Chongqing and Kunming.
For temperature-controlled loads moving inland by truck, Port of Nansha provides cost savings of as much as 5,000 to 6,000 Chinese yuan (US$700 to US$850) per container compared with other Pearl River Delta ports, like Hong Kong, according to Painter.