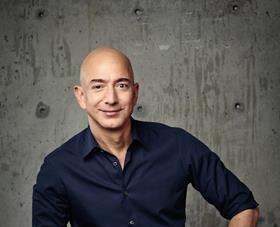 Indian billionaire Mukesh Ambani has reportedly offered Amazon a 40 per cent stake in the retail arm of his business, Reliance Industries, in a deal that could be worth up to US$20bn.
This is according to a report by Bloomberg, which cites an anonymous source with inside knowledge.
The latest development suggests a deal between the two companies is in the works, which as recently as last month were in competition regarding another retailer, Future Retail.
If successful, the deal would have significant ramifications for India's retail sector. It would also mean Amazon's Jeff Bezos (pictured right) and Reliance's Ambani would go from rivals to allies.
According to Bloomberg, shares of Reliance Industries surged to a record recently, as stock advanced 7.1 per cent in Mumbai, pushing the company's market valuation past US$200bn.
Utkarsh Sinha, managing director at Bexley Advisors in Mumbai, said the deal would be complimentary to both parties.
"Amazon comes with the might of its warehousing capabilities and the ability to streamline supply chains and sweat assets for maximum returns."
Reliance Industries, meanwhile, could offer the on-the-ground presence Amazon is desperately seeking, aware the country's retail sector remains dependent on local Kiranas (corner stores).