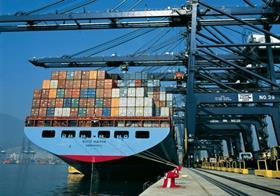 Growth in shipping traffic is putting the pressure on the region's infrastructure, with a number of key ports suffering from congestion issues.
Intra-Asian container traffic is the fastest growing international trade, according to Tony Hotine, CEO of Damco Asia-Pacific, and the growth rate is outstripping the increase in port capacity, reported IFW.
The need for upgrades is also extending to from key hubs to regional ports as traffic cascades down the chain.
"We are seeing challenges with congestion," Mr Hotine told IFW. "We've seen new terminals open in Vietnam, but there's still room for improvement there.
"Indonesia is also a challenge – not just Jakarta but also for feeders trying to meet main line services. This is a country where growth is good and potential strong, but more investment in ports is needed."
Backlogs are also building in major South Asian ports in like India's Nhava Sheva and Bangladesh's Chittagong.
Government involvement is needed to build port capacity to the required extent, according to Paul Slater, chairman of First International Corp.
"I think some local government participation will be needed as the investment markets are still very skittish, and the trade will need some sort of support from the lines if the new sizes and facilities are to be provided."