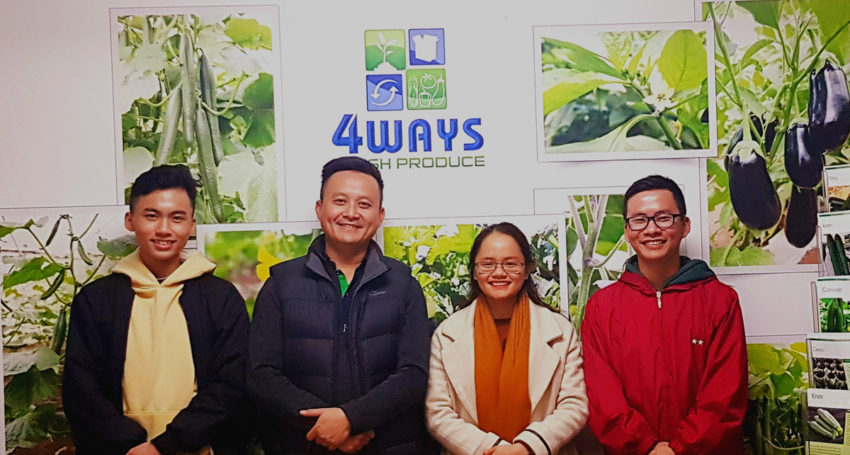 Production ties between Australia and Vietnam are being boosted under an innovative new project.
The Australia-Vietnam Cooperation on Human Resource Development and Vocational Scholarship Programme has seen more than 20 Vietnamese students travel to greenhouses in South Australia and Western Australia to learn modern growing techniques. Four of the students are now enrolled at vocational college Tafe SA.
The programme is the brainchild of South Australian horticulturist Duy Ly and is being funded by industry-stakeholders in Vietnam.
Arriving from Vietnam in the mid-1980s, Ly's family settled in the market gardening region of Virginia, north of Adelaide.
Still based in the Virgina region, Ly has worked hard to establish 4 Ways Fresh Produce. The company's produce is sold through major retailers including Coles, Woolworths, Aldi, Foodland, IGA and Costco across five core categories – cucumber, eggplant, zucchini, capsicum and tomatoes.
The 4 Ways Fresh Produce business continues to expand its own farming operations in Virginia and Geraldton, Western Australia, while also working with hundreds of growers nationally.
Ly returned to his country of birth in 2015 to set up a trial farm after analysing the cost of shipping fresh vegetables from South Australia to Asia.
"If we exported our vegetable lines over there, I don't think we could be competitive – people are willing to pay you a premium but not triple the price," he said.
"In Asia people want safety and then price and then something that's grown locally. So, we believe that rather than shipping fruit from here to Asia, let's go to Asia and grow."
The 4 Ways Fresh brand is now registered in Asia and is becoming known among industry players in Malaysia, Singapore, Hong Kong, Brunei and Vietnam.
More trial plots are planned, including some in joint partnership with universities to share the knowledge about efficient and hygienic growing practices developed in Australia.
Ly said he hoped the partnership between Tafe SA and the Vietnam government would train hundreds of Vietnamese farmers in Australia and then shift to Vietnam to train thousands more.
"Things have been falling into place in Vietnam and if we can get greenhouses on university land then we can open the whole thing up so local farmers can come and see how we grow things and compare our production and our varieties to theirs," said Ly.
"So far the feedback has been pretty good. People say 'the cucumbers are beautiful, they taste different and the tomatoes taste different and look different' so it's about getting people talking."
This is a Creative Commons story from The Lead South Australia. Changes have been made to the original version by Fruitnet Media.