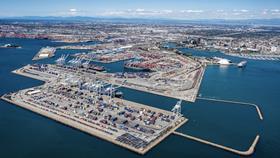 The Port of Long Beach accomplished a pair of records in September by achieving its busiest month ever and its most active quarter in its 109-year history.
Trade was up 12.5 per cent in September compared to the same period in 2019 with 795,580 cargo twenty-foot equivalent units (TEUs) moved. This broke the previous record of 753,081 TEUs set just two months ago in July 2020.
The Port processed 2,274,271 TEUs between 1 July and 30 September, a 14.1 per cent increase from the third quarter of 2019. It was also the Port's busiest quarter on record, topping the previous record set during the third quarter of 2017 by nearly 160,000 TEUs.
Mario Cordero, executive director of the Port of Long Beach, said e-commerce was allowing consumers to continue buying products even if they were at home.
"Large retail stores are reopening, merchants are stocking up for the winter holidays and the increased use of e-commerce appears to be an enduring trend picked up by consumers during the recent stay-at-home orders," said Cordero.
"Still, we must move ahead with caution during the remaining months of 2020 because the national economy continues to be heavily impacted by the Covid-19 pandemic."