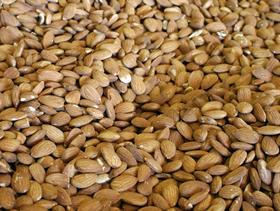 Australian almond heavyweight Select Harvests is on track to process a record crop in 2021.
The listed company has completed its seasonal harvest, with 100 per cent of its 2021 crop delivered to its Carina West processing facility.
With over 60 per cent of the crop already processed, Select Harvests estimates its crop volume, including tonnage from the acquisition of Piangil Almond Orchard, to be approximately 28,250 tonnes, up from 23,250 tonnes in 2020.
The company said 60 per cent of its 2021 crop is committed (including internal sales) at prices in the range of A$5.90 per kg and A$6.40 per kg. The un-committed portion of the crop is likely to be sold at lower value grades.
In an update to shareholders, Paul Thompson, managing director ofSelect Harvests,told shareholders the Australian almond industry has experienced significant growth in global demand across all markets, particularly in traditional markets such as India, Europe and China.
Thompson also highlighted the USDA's 2021 Objective Crop Estimate, released this week. The estimate pegged the 2021 US almond crop at 2.8bn pounds, down 12.5 per cent on the 3.2bn pound Subjective Crop Estimate released on 12 May (2021). The 2020 US crop volume was 3.12bn pounds.
"Record almond shipments and the worsening Californian drought have led to a recent price appreciation," said Thompson. "Demand for almonds, both in their natural form and as a value-added food ingredient, in products such as plant based milks and yoghurts, continues to grow.
"Thanks in part to the December 2020 acquisition of Piangil Almond Orchard, Select Harvests is set to achieve a record almond crop of 28,250 tonnes in 2021."
Thompson said Select Harvests' 2022 crop is progressing well, with good tree health and sufficient chill hours.
"With good progress being made on the 2022 crop, Select Harvests remains focused on the factors within its control, including almond volume, quality, value adding and operating costs," Thompson added.