Frutas Finas will run the equipment all year round to help identify and remove defects

Leading avocado processor Frutas Finas has installed a new Reemoon sorting system, marking the Chinese sorting equipment manufacturer's first foray into the Mexican market.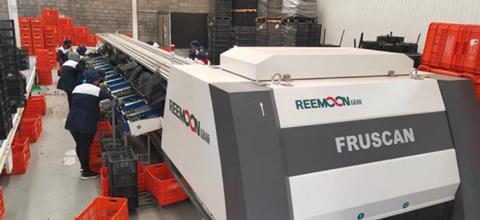 Vincent Zhang, sales manager of South America at Reemoon, said the Fruscan S7 visual inspection system removes defects with high accuracy and was installed at the beginning of 2022 following interest from the Michoacán-based company.
"Frutas Finas had watched the relevant videos of our equipment and heard about the Reemoon brand from their peers. They knew our latest Fruscan S7 system could effectively identify defects in avocados, and the whole set of equipment is more advantageous in price compared with other suppliers," said Zhang.
"The equipment was installed in April, and within a short period of time, the first set of equipment in the Mexican market attracted a strong response from local customers. In particular, the defect sorting technology has been unanimously praised."
Zhang explained the latest Fruscan S7 visual inspection system by Reemoon features improved detection function, accuracy and can carry out separate mapping and modeling for various avocado defects.
"The Fruscan S7 visual inspection system can accurately remove the defective fruits and realise the good fruit with good price. At present, this technology is very mature and Fruscan S7 has already been used in Peru and Colombia apart from Mexico," said Zhang.
According to Zhang, Reemoon's defect detection can save the cost of five to six employees.
"The equipment runs at high speed and efficiency, and the empty box and finished product conveying layout are reasonable. The visual inspection effect is also perfect. Compared with the previous equipment, the production capacity has increased by about 30 per cent," he explained.
"We conducted a calculation and it is expected that the customer can get the equipment investment back in seven to ten months based on a year-round operation."
Owner of Frutas Finas Diana Laura Flores praised Reemoon's equipment and service.
"The design of Reemoon's equipment is beautiful and the materials are solid. Although it took some time to model the defects, the final detection effect exceeded my expectations. This equipment is the best sorting equipment I have used so far," said Flores.
"Reemoon also specially arranged an after-sales engineer to serve us to solve our worries about any after-sales problems."
With more and more projects in South America and more and more business coverage, Reemoon is currently preparing to establish a branch in Mexico.
"Currently, the degree of mechanisation of fruit processing in Mexico is still very high, and fruit packaging plants with a certain scale are using electronic sorting equipment. However, most of the equipment is outdated. Reemoon will definitely win a broad market in Mexico with our advanced technology, super high-cost performance, and high-quality service," Zhang said.
Reemoon Technology Holdings is mainly engaged in the research, development, and manufacture of post-harvest intelligent equipment for fruits and vegetables. The company also engages in post-harvest processing services for fruits and vegetables. Reemoon has also established a mechanical automation research institute, dedicated to the automation of the entire processing line to meet the needs of different customers.
Founded in 2001, China Reemoon is a high-tech enterprise specialising in the research, development and manufacture of post-harvest sorting equipment for fruits and vegetables.
Contact:
Vincent Zhang, sales manager of South America
Tel: +86 188 7973 0096
Company Tel: +86 797 3338899
Email: overseas2@reemoon.com.cn
Website: www.reemoon.com