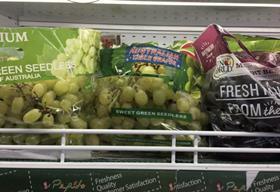 A report from the Australian Bureau of Agricultural and Resource Economics and Sciences (ABARES) has identified significant opportunities for imported fruit and vegetables in Indonesia.
TheAnalysis of Indonesia's food consumption and trade: will domestic reform keep up with demand?report examined the drivers of food demand and supply trends in the Asian nation.
The report forecasts an increasing reliance on imported food products.
"We expect food demand [in Indonesia] to quadruple by 2050 based on rapid growth in the country's demand for more diverse and higher value foods such as meat, dairy, fruit and vegetables," said ABARES executive director Jared Greenville.
"This forecast strong growth in demand means that Indonesia's agriculture sector will not be able to supply future food needs.
"It is likely that around three-quarters of the value of Indonesia's food consumption will have to be supplied from imports by 2050."
Greenville said recent moves to reform Indonesia's stringent import policies reflect the country's view that food imports and domestic production have equally important roles for achieving food security.
"The new Omnibus Law aims toremove penalties and restrictions on imports of some agricultural commodities," Greenville said.
"Nevertheless, Indonesia's complex regulatory systems continue to pose barriers for exporters wishing to trade with Indonesia, and self-sufficiency remains the principal rationale for some regulatory restrictions.
"While there is enormous potential for Australia coming from the changes in Indonesia's economy and regulatory framework, we expect progress for our exporters will be measured."