Small volumes of New Zealand-grown fruit exported for the first time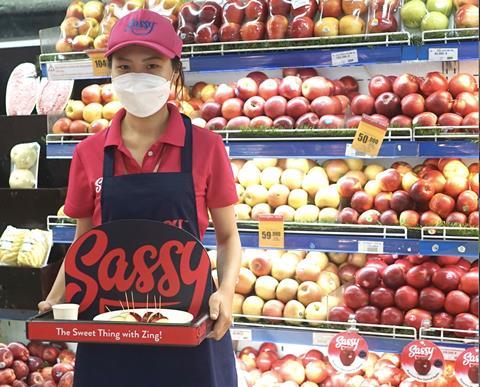 New Zealand-grown Sassy apples have made an immediate impact in Asian markets.
Small commercial volumes of the branded variety have been sold in mainland China, Hong Kong, Vietnam, Thailand and Taiwan this season.
The programme has been managed by Next Generation Apples, a joint venture between multi-generational New Zealand apple growers Golden Bay Fruit and Taylor Corp.
"We're really pleased with the fruit this season and the market feedback so far" says Evan Heywood, chief executive of Next Generation Apples. "The bright, block-red colour is outstanding and it holds its crunchy texture for months after harvest."
Consumer research conducted in Vietnam indicated shoppers liked the "subtle sweetness" of Sassy, with 96 per cent of the 375 consumers interviewed rating the dense, crunchy texture of the offering as either "excellent" (65 per cent) or "good" (31 per cent).
Kelvin Taylor of Taylor Corp said the sentiment was echoed in China and Taiwan, where consumers recognised Sassy as an apple with real crunch and good juice content.
"We're still eating Sassy now, everyone you give them to just loves them, everyone wants more," explained Taylor.
Sassy exports will ramp up from just two containers this season to 20 containers next year.