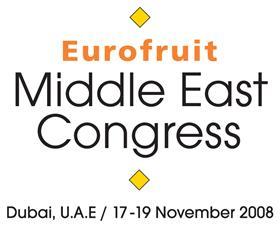 The Eurofruit Middle East Congress 2008, taking place on 17-19 November 2008 at the Shangri-La Hotel in Dubai, will feature a detailed look at retail developments in the Saudi Arabian market during the event's first afternoon session.
Contributors to the session include Ahmed Ali Abubaker of major retail operator Danube Company, and Manu Ghai of leading industry analyst Planet Retail.
Danube Company, the first group to establish a hypermarket in Saudi Arabia, has developed a network of modern retail stores based on the western European model and, through a recent merger with Bindawood superstores, is now the largest supermarket chain in Saudi Arabia's Western Province.
During the session, Mr Abubaker will outline his company's approach to the Saudi fresh produce market and will offer delegates an insight into supplying the country. Meanwhile, Ms Ghai will provide a detailed overview of the retail scene across the country.
So take the opportunity to do business with leading names in the fresh produce business at this year's Eurofruit Middle East Congress. Delegates have exclusive access to all areas of the conference programme including:
- 1 x Eurofruit Middle East Congress Welcome Reception sponsored by the Mediterranean Fruit Company
- 1 x Eurofruit Middle East Congress Gala Cocktail sponsored by Interfel
- 1 x networking lunch
- 3 x networking breaks
- Entry to all congress sessions & exhibition
- Delegate tours to Emirates Sky Cargo Mega Terminal and Hyper Panda Dubai Festival City
Top companies in the fruit and vegetable industry have already signed to attend the Eurofruit Middle East Congress. For a current list of companies attending email info@mideastcongress.com.
Register online at www.mideastcongress.com and save up to 30 per cent on your delegate fee.
For further information contact:
Lyna Fernandes Nóbrega
Marketing & Promotions Manager
Eurofruit Middle East Congress 2008
+44 20 7501 3725
info@mideastcongress.com