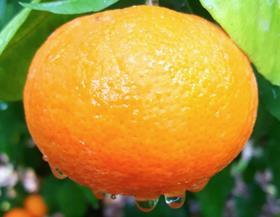 Save Foods has announced leading Israeli citrus exporter Mehadrin Tnuport Export has started using Save Food's post-harvest treatment in its packhouses.
Save Foods' non-toxic and eco-friendly treatment allows a significant reduction in fungicides during the post-harvest stage reducing and, in some cases, even eliminating fungicide residues on the produce while maintaining freshness over extended periods.
With over 5,000ha of agricultural holdings, Mehadrin is one of Israel's largest growers and exporters of citrus – including Jaffa branded citrus ­­– and other fruits and vegetables, supplying major retailers in Europe, North America and Asia.
Mehadrin's chief operating officer Iftach Nahari said Save Foods' treatment would help the company achieve its goals of exporting high-quality produce using as few fungicides as possible and driving down produce waste for retail customers.
"Mehadrin, as a respectable and experienced export company, works hard to ensure that we export the best products while complying with the strictest regulations and our customers' requests," said Nahari.
"The world is moving towards low residue of pesticides and fungicides, while aiming to maintain a high quality product and freshness of fruit with the least amount of waste. I believe our partnership with 'Save Foods' will help us continue to offer top-of-the-line produce all around the world, while fulfilling the new requirements."
Dan Sztybel, chief executive of Save Foods, said there was scope to increase collaboration in future.
'We are proud that a company of Mehadrin's calibre has entrusted Save Foods to treat citrus fruit in their packing houses. I am convinced that Save Foods' treatments will assist Mehadrin in maintaining its position as an industry leader," said Sztybel.
"I am confident that our partnership geared towards treating citrus fruit will lead to further opportunities to treat other fresh produce grown and packed by Mehadrin."
The announcement comes off the back of news Save Foods' treatment was approved for use in Peru by Peru's Ministry of Agricultural Development and Irrigation at the end of January 2022.