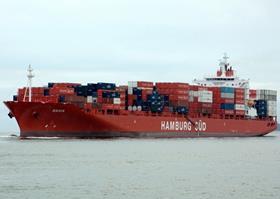 Germany-based shipping company Hamburg Süd has revealed that it is set to make changes to its Trident Service as a result of changing market conditions, in a bid to reduce network costs.
The service, which incorporates cargo to and from Europe-Australia/New Zealand, will now be served through the Colombian port of Cartagena as well as enlarging European port coverage with calls at Rotterdam (the Netherlands), Tilbury (UK), Hamburg (Germany), Antwerp (Belgium) and Le Havre (France).
The transhipment service has been specifically configured so that allocations for the Australia/New Zealand-North Europe cargoes have priority, the group said.
'The position which Hamburg Süd has built with their clients in the transatlantic trade will continue to be served a standalone service deploying four vessels of appropriate capacity to cover the target markets,' Hamburg Süd said in a statement. 'The operation will continue uninterrupted by retaining the ports covered in the Trident Service, enhanced by an additional call in New York.'
As a result, a rotation of Tilbury, Bremerhaven (Germany), Antwerp, Philadelphia (US), New York (US), Savannah (US), Tilbury will now be employed.
'The new service configuration ensures that Hamburg Süd will continue to provide premium service in the transatlantic market, while reducing capacity in line with a sharp decline in volumes which has been witnessed in this trade,' the group added.
Meanwhile, the US East Coast-Australia/New Zealand trade will remain serviced by the joint end-to-end Maersk Line operation, with calls in Cartegena added southbound and northbound.
The revised port rotation for the service will be Philadelphia, Savannah, Cartegena, Balboa (Panama), Auckland (New Zealand), Sydney (Australia), Melbourne (Australia), Timaru (New Zealand), Port Chalmers (New Zealand), Napier (New Zealand), Tauranga (New Zealand), Auckland, Manzanillo (Panama), Cartagena and Philadelphia.
Changes to the services will come into force in May.