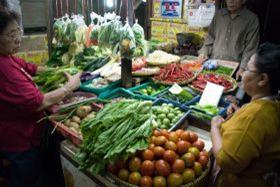 Indonesia supplied 10 per cent of Singapore's vegetable imports in 2010, and aims to build to 40 per cent by 2014, according to an Indonesian government minister.
Coordinating Minister for Economic Affairs Hatta Rajasa made the comments on Sunday after a visit to the country's northern Riau Islands province with President Susilo Bambang Yudhoyono, reported Antara News.
Mr Rajasa said the government had decided to develop horticultural production, particularly vegetables, in the island province to meet rising demand in nearby Singpore.
"By 2014 our vegetable exports to Singapore must reach more than 40 percent of its needs," he said.
The government plans to establish a farm production centre in the Riau Islands, and President Yudhoyono has reportedly asked the Bogor Institute of Agriculture (IPB) to study varieties suitable for cultivation in the province.