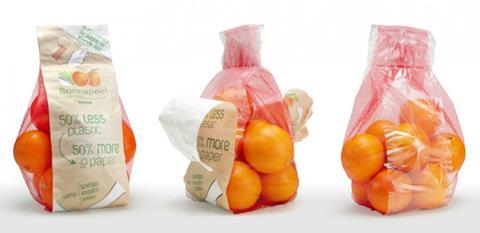 Italian packaging manufacturer Sorma has released a new line aimed at improving recycling efficiency.
Named Sormapeel, the line's defining feature is a 'peel-off' strip of paper that wraps over a plastic film to form a label. The innovation is designed to make separating plastic and paper recycling as quick and trouble-free as possible.
The paper strip also provides functional benefits, adding strength to the overall label while reducing the thickness of the plastic film by 70 per cent. Sorma claims the packaging contains, on average, 50 per cent less plastic than the conventional equivalent.
According to the company, the environmental benefit has not come at the determent of performance, with the patent pending solution said to have the same content-visibility, breathability, resistance and strength characteristics found on all Sorma packaging lines.
"As a group, we have been working for years on the development of innovative materials and solutions to support the circular economy that is becoming more and more necessary to protect our planet's resources," said Andrea Mercadini, CEO of Sorma.
"Today, we are taking a big step forward, because in a era when plastic polymers and their future are the focus of much discussion, Sorma is offering a solution that considers the most widely different packaging-related factors: convenience, cost saving and recyclability. And the combination of these factors makes this a real solution, which can genuinely be applied to all products, and not just a small selection of specific categories such as organics."
The Sormapeel line can be applied to the entire range of Sorma fruit and vegetable packaging machinery.
Mario Mercadini, large scale manager of Sorma, said the company purposely adopted commonly used materials when developing the packaging.
"The downstream recycling system is well established, and able to handle them [materials used to make Sormapeel packaging] easily and dispose of them effectively," Mercadini explained. "This is not always the case with other materials, such as compostables.
"Within our organisation, the Sormapeel innovation has led to a change in the production process, but we are already able to guarantee continual supplies to all interested customers, anywhere in the world."