International summit in South Africa delivers sweet success for South African avocados in China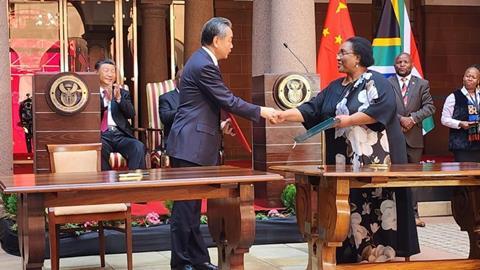 South African avocados have been granted access to China after a new agreement was signed at the Brazil, Russia, India, China and South Africa (BRICS) summit.
South Africa's minister of agriculture, land reform and rural development, Thoko Dediza, and China's agriculture minister Tang Renjian signed the protocol on the first day of the event, held in South Africa.
Dediza was excited by the development and said the South African government had been working very hard to unlock new opportunities for South African farmers.
"Gaining access to China is a vital step in driving export growth for South African avocados," she said. "It is a commitment which the government made under the Agriculture and Agro-processing Master Plan. In recent years the avocado industry has expanded by some 4,750ha and there are now 18,000ha planted under avocados in the country."
Derek Donkin, chief executive of the South African Subtropical Growers' Association, Subtrop expressed delight at the development and said the industry was excited to plan its first campaign in China. With the current avocado season winding down, it is expected that South African growers will only be able to explore opportunities in China next year.
Didiza said China is likely to become one of the world's leading avocado consumer markets, and this offers immense opportunity for the South African industry to expand even further.
The deal has been in the making for a long time and it was widely expected that an announcement would be made during the historic first BRICS summit in the country.
On the first day of the summit, during a bilateral meeting between South Africa and China, a host of other agreements were signed between the two countries to enhance cooperation and trade in future.