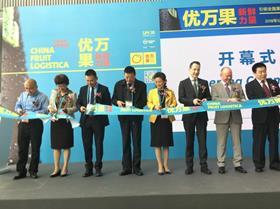 China Fruit Logistica created a new premium professional trade platform on a national scale for China's fresh fruit and vegetable business when it launched in Shanghai this week.
Taking place on 14-16 May at the Shanghai Convention & Exhibition Center of International Sourcing, China Fruit Logistica drew over 2,000 top-quality buyers and trade visitors from throughout China's retail trade and fresh produce business, according to official numbers from organiser Global Produce Events (Shanghai).
Speaking at the opening ceremony, Wilfried Wollbold, general manager of GPE (Shanghai) hailed the launch of China Fruit Logistica as a landmark moment for China's fresh fruit and vegetable business.
"Today, we are laying the foundation stone of what will become the leading national marketplace for the fresh produce business in China," said Wollbold. "The trust in the Fruit Logistica brand has built up over 25 years in Berlin and in the past ten years at Asia Fruit Logistica in Hong Kong. Now China Fruit Logistica will spark the progress of quality and standards in the Chinese fresh fruit and vegetable sector, especially for production, logistics, technology and retail."
Huang Jingyi, president of joint organiser China Good Agri-products Development and Service Association (CGAPA), underlined the strategic importance of China Fruit Logistica for the country's fresh produce business. The national association, which comes under the authority of China's Ministry of Agriculture, is focused on modernising the agriculture sector and upgrading quality standards for domestic producers and suppliers. "China's fresh fruit and vegetable business needs this trustworthy national platform, which is able to connect with the international market," she said.
Also addressing the opening ceremony were Guo Xiliang, vice chairman of China Fruit Logistica's strategic partner China Society of Inspection and Quarantine (CSIQ), and guest of honour Wan Benyi, section chief of China Customs Animal and Plant Division.
The launch of China Fruit Logistica attracted strong interest from the Chinese fruit and vegetable trade, with buyers and industry professionals from 25 provinces across the country purchasing their tickets upfront. International visitors from over 30 different countries also travelled to Shanghai to take part in this first edition. The mix of high-quality intra-China and international visitors resulted in excellent commercial opportunities on the show-floor, with visitors and exhibitors alike reporting strong business outcomes from their meetings at China Fruit Logistica.
Visitors to China Fruit Logistica took in the products and services of close to 100 exhibitors. China accounted for the majority of exhibitors, with companies and organisations from 12 different provinces across the country showcasing their wares. A wide range of global products and solutions were also on display, with 18 different exhibiting countries taking part representing all continents. "China Fruit Logistica brings to Shanghai the best-in-class products and services from across the fresh produce value chain," said Wollbold.
China Fruit Logistica visitors were also able to take part in full programme of events on the trade show floor. Powered by Asiafruit China, part of world-leading publisher and event organiser Fruitnet Media International, the three-track programme offered visitors a high-quality mix of strategic insights and practical information.
At the Main Stage, Fresh Produce Forum China, China's leading fresh produce conference event, featured keynote presentations and panel discussions on the hot topics and trends in China's fresh produce business. At the Expert Stage, visitors could meet industry experts from around the world, and get practical insights and on the best products, systems and solutions for their business. Meanwhile, the China Fruit Logistica Media Studio comprised live interviews with key industry figures covering the last trends and innovations.