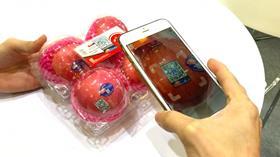 Singapore-based global fruit distributor-marketer SunMoon Food says it has completed a successful pilot to digitalise its supply of Chinese Fuji apples using blockchain technology.
The company has applied the technology with Shandong-based Chinese apple packer XingYeYuan (XYY) to track shipments to customers in key markets across South-East Asia.
SunMoon is using a blockchain-based system developed by Singapore start-up DiMuto. The new venture is a collaboration with Ascent Solutions, 1Citadel and Ceito, which are providing solutions in Internet of Things (IoT), blockchain and Initial Token Offering (ITO) platforms respectively. DiMuto is owned by private equity firm First Alverstone Capital, which is in turn owned by SunMoon CEO Gary Loh and his wife Selena Cheng.
Using the DiMuto app, each carton of apples XYY dispatches isuniquely tagged andphotographedon the packing line to transfer physical data into digital that is encrypted and loaded onto the distributed digital ledger, according to DiMuto'sTylor Jong.
"The carton is tagged witha QRcode, and it is then tracked with an IoT device in the shipping container, including temperature and location," Jong told Fruitnet. "All therelevant documentsincluding the Bill of Lading,Certificate of Origin, Health Certificateand so onareaccessibleto authorized stakeholders at any point of time."
In a media release, SunMoon said it started training XYY's packhouse employees to carry out the tagging process in mid-October. XYY's packhouse facility is equipped to scan batch-specific and carton-specific QR codes and to capture photographic verification of apple quality. Both the individual apples, and the cartons they're packed in, are 'blockchained' using QR codes.
SunMoon said the system enables the company to capture real-time packing status updates of order fulfilments, giving an accurate overview of the number of cartons packed, and the batch origin of apples in respective cartons, as well as the quality of the apples when packed. The information is then stored on DiMuto's blockchain platform to ensure that all trade parties, including SunMoon, suppliers and customers, have real-time visibility of the apples, the company added.
SunMoon said it is now rolling out the product traceability and tracking for shipments of Thai frozen durian, adding that is also in talks with supply partners for avocados and citrus in the US to adopt the technology.
SunMoon said there are numerous benefits to the system, not least quality assurance. "The QR code on SunMoon fruits acts as a physical and digital stamp of quality assurance – the fruit in hand has been tracked and traces from packhouse to retail channels," said the company. "Consumers who buy SunMoon Fuji apples can now access the verified certificates on the DiMuto blockchain, such as Good Agricultural Practices and product origins. Such data, previously not readily available to consumers, can now be accessed through a simple scan of a tagged QR code."
The blockchain technology also facilitates customer feedback, the company said. "Customers have access to a feedback button about fruits," the release explained. "They will also be prompted to take photos of the product, as well as provide purchase location details. This helps brand owners, and potentially retailers and buyers, to ensure the quality of product at retail level and intermediary channels."
SunMoon said the immutable information on DiMuto's platform will help to create a smoother and more efficient supply chain. "The greater transparency across the supply chain will significantly reduce many of the inter- and intra-communication costs, and minimise potential disputes between supply chain partners with regard to corroboration of information," said Roger Chua, managing director of SunMoon.
Loh told Fruitnet the ability to track information and goods through DiMuto's platform will also help SunMoon and its trade partners to secure capital funding. "Securing funding from banks and investors has always been a challenge in the fruit business," said Loh. "That's mainly because of the lack of visibility in the industry – investors cannot see what is going on. The move from analogue to digital provides assurance and verified information to potential financiers."
A full report on SunMoon's application of blockchain technology with DiMuto appears in the November issue of Asiafruit Magazine, out now. Email subscriptions@fruitnet.com to order your copy.