Indian start-up tests for pesticides and offers eco-friendly packaging
Superplum is addressing food safety and sustainability with a new table grape offering for the Indian market.
The Noida-based start-up said its 'Safe to Eat' grapes are tested for pesticide residues.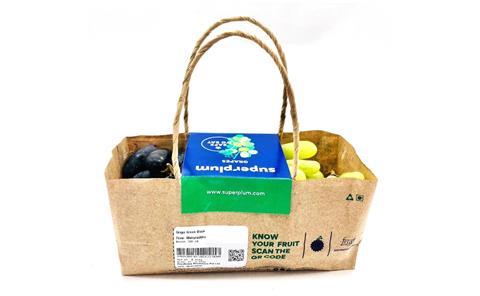 "Farm practices and growing methods are analysed before harvesting, and grapes are then tested by NABL-accredited labs to ensure food safety," according to a media release from Superplum.
The offering addresses a long-running issue with table grape consumption in India, according to the company.
"While India has become one of the world's largest table grape exporters by following global standards for pesticide residues, most Indian consumers have to consume grapes with high contaminant levels in their own country," the media release said.
As part of its commitment to promoting transparency through the supply chain, Superplum makes the pesticide test reports available to customers and end-consumers via a QR code on its packaging.
"This gives customers information about where their grapes were grown, which farmer produced them, and even offers them the opportunity to reward the farmer with a bonus payment," the media release added.
To improve sustainability, Superplum has also developed plastic-free cardboard packaging for its offering.
"With Indians consuming grapes in millions of plastic packs, this small change can help reduce our ecological footprint," the media release said. "Consumers will not only eat healthier, but they can also help contribute positively to the environment."
Superplum's grapes are being sold in 500 stores across Delhi-NCR and Bengaluru, including Spar, Lulu Hypermarket, and Star Bazaar. They are also available on Amazon Fresh and other online channels.