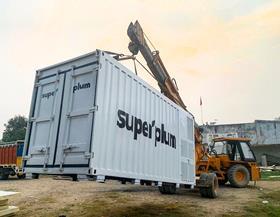 Superplum, an ag-tech start-up building a digitised farm-to-store supply chain, has completed its pre-series A investment round.
The Indian company has raised US$6.8m since its inception in 2019 and plans to use the fresh capital to build out farm infrastructure, augment the management team and to expand the company's distribution capabilities.
Superplum was founded to try and address India's fresh produce supply chain problems by designing and building an all-new state-of-the-art supply chain and digitising the farm-to-store network. The aim of the new network would be to deliver consumers fresh and fully traceable food that is free of pesticides and give farmers get a better deal.
To complete this transformation Superplum plans to implement of innovations including its Fresherator, a low-cost transport solution that can transform any truck into a refrigerated vehicle, and its FreshManager traceability platform uniquely designed for the Indian market.
Other solutions in Superplum's pipeline include modular farm infrastructure, with a fast setup cold room for remote rural farms; analytics to assess regional supply and demand mismatches; and multi-channel city distribution.
The company's products can already be found at offline retailers such as including Spar, Metro, Reliance Retail, Starbazaar, Future consumer plus and online presence.
Shobhit Gupta, Founder and chief executive of Superplum, said the supply chain held the key to the future of India's fresh produce industry.
"India is the world's second-largest agriculture market and we produce more than 110m tonnes of fruits every year. However, we see broken supply chains, massive wastage, gluts, and shortages both geographically and over time," said Gupta.
"We plan to fix this broken channel between farm-fresh fruits and the end-user with a low-cost but modern supply chain solution that can ensure fresher and higher quality products across the country."