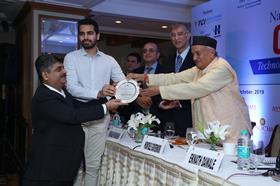 Suri Agro Fresh has officially launched its fully palletised storage, packing and distribution facility in Mumbai.
The distribution centre, worth a total US$6.8m, will manage inbound and outbound processes, cold storage and order fulfilment.
The operation is a joint venture between Delhi-headquartered Suri Agro Fresh and Irish distributor, Total Produce, who had Frank Davis and Eugene Caulfield attend the launch.
Communications manager at Suri Fresh Agro, Roopam Suri, spoke of the significance of the launch: "It was a momentous day for us and great to have Frank (Davis) and Eugene (Caulfield) attend all the way from Dublin."
"We are aiming to turn it into one of the most quality-controlled and efficient means of storing highly perishable fruits and vegetables," said Suri.
Suri also shared with Asiafruit the news the organisation had been awarded best innovative new cold chain technology solution of the year by the associated chambers of commerce of India (Assocham).
Assocham has over 4.5m members from all over India and has played a significant role in shaping the country's trade, commerce and industrial environment, according to Suri.