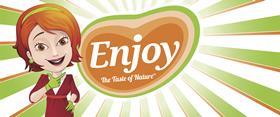 Leading Indian importer and distributor, Suri Agrofresh, has re-launched its brand 'Enjoy' as a consumer-centric health lifestyle brand.
Chairman and managing director Sudhir Suri said the landscape of Indian fruit consumption has changed significantly over the past decade, and as a result focus on brands has become quite significant when it comes to consumption.
"Consumers today trust brands for superior quality products," said Suri.
"For over 20 years we have been selling a variety of fruits under the brand name Enjoy, but the presence was restricted within trade. From this year we intend to take the brand to our consumers with a new look," he added.
Under the umbrella of the Enjoy brand, Suri Agrofresh will offer a variety of options to Indian consumers, including apples, pears, grapes and oranges, sourced both domestically and internationally.
"The brand will strive for Indian families to have a wholesome, healthy and dynamic lifestyle through consumption of variety of fruits. In the near future we will introduce various consumer packaging, too," said Suri.