Dole and Rijk Zwaan work together to develop the market for colourful peppers
A marketing campaign that incorporated in-store and online activations has helped grow demand for Rijk Zwaan's range of Sweet Palermo peppers in China.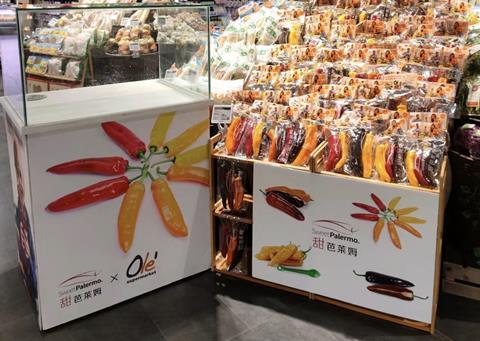 Coordinated by leading food company Dole, the campaign included promotional activities in 12 Olé supermarket stores across 11 Chinese cities.
"We had the opportunity to introduce Sweet Palermo to consumers face-to-face and inspire them with this unique product," said Vivian Wang, director of marketing at Dole China.
"Most consumers are willing to try new things. The sweetness and colourfulness of the products received high praise.
"At the same time, consumers shared their ideas on how to prepare Sweet Palermo. Despite the impact of the pandemic, our overall campaign was very successful."
Dole has supported the in-store promotions with online content. Wang said the online activations helped dispel commonly held consumer views that pointed peppers were hot and spicy rather than sweet.
"In-store promotions give consumers the opportunity to taste the products directly, which eliminates their doubts," Wang said. "We are also working with key influencers to present and explain the products online through channels including TikTok, Alibaba and WeChat. This seems to be having a very good effect."
Wang said the four colours of the Sweet Palermo range – red, yellow, orange and chocolate – have stood out in the Chinese market due to the uniqueness of the offering.
"It makes a good first impression on consumers. Bright colours directly attract people's attention, which can stimulate demand," Wang explained.
"At the same time, colours represent rich nutritional value to a certain extent. Additionally, they can allow consumers to be more creative in the kitchen. We're keen to help consumers experience the happiness that these attractive fresh vegetables can bring to themselves and their families."
Rijk Zwaan has supported Dole in the development of the Chinese market.
"We discussed the set-up and implementation of the entire supply chain together," Wang said. "From planting and harvesting to packaging, logistics, sales and marketing, we communicated and shared resources at each step.
"In particular, we can benefit from Rijk Zwaan's experience with Sweet Palermo in other countries in order to accelerate the promotion and development of the whole project in China."
Wang is optimistic about the future for Sweet Palermo in China.
"After two years of developing the market, we have every reason to believe that demand for the colourful Sweet Palermo will continue to grow," Wang said.
"We will further strengthen our online promotional activities and consolidate existing offline sales channels. We are striving to double the sales in the next two years."