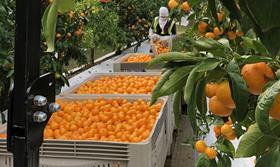 T&G Global has begun harvesting its first satsuma mandarins of the 2020 season with summer conditions making for a great tasting crop.
New Zealand's largest citrus grower expects to produce around 80,000 crates (approximately 12m) of mandarins from Northland this season.
Tom Chamberlain, Regional Manager – Northland of T&G's, said due to a warmer, drier summer, this season's mandarins are set to taste great.
"Satsuma mandarins have grown in popularity over the past five years due to their great taste, and seedless and easy to peel properties. They're now the largest volume citrus crop in the country. This year the crop is fantastic – sweet-tasting and larger in size – making them perfect for the whole family," Chamberlain said.
"As we head into autumn and winter, fresh satsumas are a convenient and delicious way to access Vitamin C and all of the health-boosting properties that citrus provides."
While the majority of the new season fruit will be sold in New Zealand retail outlets, some of T&G's New Zealand crop will be exported to Japan over the coming months where the fruit is popular.
Chamberlain said T&G has worked to guarantee the standard of the fruit, and the safety of worker and consumers during the coronavirus (Covid-19) pandemic.
"There's no doubt, we have a top-quality crop. To ensure our satsuma mandarins are the best quality, they're carefully picked by hand to minimise any bruising. Given current seasonal labour shortages, the challenge for us has been having enough hands to harvest the fruit," Chamberlain explained.
"As an essential business, we've worked with many Northland employment agencies to provide opportunities to locals, alongside our seasonal workers, providing them with the required training on safe work practices," he added.
"We were also grateful to have a group of women from the island of Kiribati here for the blueberry season, who decided to stay to help with our mandarin harvest, as our pickers weren't able to travel from another Pacific Island to New Zealand."