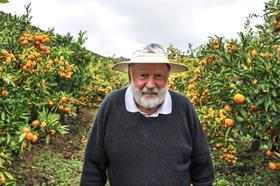 T&G Global has announced the passing of former chairman and long-standing director, Tony Gibbs, following a period of ill health.
Gibbs led T&G Global for 16 years from 1995 until 2011. In a statement, T&G said Gibbs' had helped the company grow from a domestic fruit and vegetable seller into a significant player in the international fresh produce industry, introducing new fruit varieties to the world, including Envy and JAZZ apples.
Gibbs announced his intention to step down from the role of chairman in 2011, his lifelong dedication and commitment to supplying fresh produce to communities saw him continue his relationship with T&G as a key supplier of mandarins from his orchard.
T&G Global chief executive, Gareth Edgecombe, said the company is 'very grateful to Tony and his family for their passion, commitment and lifelong relationship.'
"Under Tony's leadership and strategic direction, T&G reshaped its business to focus on its core strength of fresh produce and expanded its global footprint. As a devoted mandarin orchardist at heart, Tony's experience in the industry has been invaluable to our business, and our heartfelt condolences are with Val, his children, family and friends, throughout this difficult time."