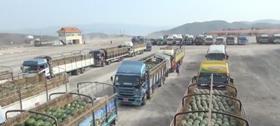 Fresh produce trade from Myanmar into China has hit a new roadblock, with reports suggesting Chinese border authorities are not allowing cargo trucks from Myanmar to pass through a key entry point.
Radio Free Asia (RFA) has reported trucks carrying watermelons and bananas grown in northern Myanmar's Kachin state are being stopped at the Lweje border, near Longchuan County in southwest China's Yunnan province.
Up to 300 trucks are being stopped at the border each day. Chinese authorities are said to have restricted their drivers from entering Myanmar and are requiring drivers from Myanmar to pay Chinese drivers 10 yuan (US$1.40) to drive their vehicles across the border into local cargo facilities.
The restrictions are in place to prevent any further spread of Covid-19, however many Myanmar drivers have expressed concern.
Cargo driver, Ko Oo, said he was concerned that Chinese drivers could damage their vehicles.
"The trucks Chinese drivers use in their country are not the same as those we use in our country," said Oo.
"As they don't know about our trucks, we are worried they might get damaged or break down, and that we might lose them because the trucks are very expensive," he added.
Meanwhile, according toRFA, Government officials from Myanmar have met with Chinese authorities in an attempt to resolve the issue and look for an alternative.
Zaw Win, Kachin state's minister for immigration and human resources, said they had spoken with Chinese authorities in an effort to find a solution, with the hope that Myanmar drivers would be allowed to travel into Chinese territory through the Northern Kan Paik Ti border crossing.
In March this year, the Kachin state government signed a memorandum of understanding with a majority Chinese-owned development company to create a border trade zone in Kan Paik Ti township in the city of Waingmaw near the border.
When completed, the border trade zone will be incorporated into the China-Myanmar Economic Corridor, a subsection of the Belt and Road Initiative.