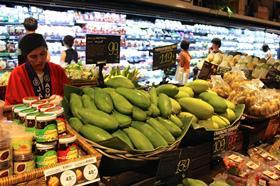 Thai retail giant, Central Retail Corporation (CRC), will offer Bt2.23bn (US$73m) in shares as part of an initial public offering (IPO) as it plans to expand domestically and overseas.
As the retail arm of Central Group, CRC is comprised of more than 1,300 supermarkets, hypermarkets and convenience stores in Thailand and Vietnam, including retailers such as Tops Market and Lanchi Mart.
The company submitted its IPO to Thailand's Securities and Exchange Commission on 1 October and according to the Bangkok Post, Yol Phokasub, chief executive of CRC, said this was the result of three years of preparation.
'Becoming a listed company will help increase the confidence (of investors) and make it easier for the company to negotiate future international partnerships, attract new talent and sources of capital,' Yol told the Bangkok Post.
'Partnerships and collaboration are significant. We can't be alone amid the rapidly changing retail landscape.'
CRC is expected to use the proceeds from the IPO to renovate some of its existing stores in Thailand and expand its stores in Thailand and overseas.