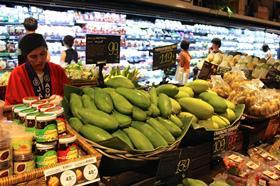 With the coronavirus (Covid-19) set to cause a decrease in Thailand's fruit exports, the country's government is preparing measures to increase domestic sales.
According to a report from the National News Bureau of Thailand (NNT), Thailand's Ministry of Agriculture and Cooperatives is planning to implement widespread support across the next three months.
Alongkorn Polabutr, advisor to the Agriculture and Cooperatives Minister, told NNT the ministry will work with retailers, traders, markets and fuel stations to set up new sales areas.
Fruit will also be sold at government buildings and at governors' offices in provinces across the country. Meanwhile, Thailand Post will assist with the distribution of fruit and help to open a new online sales channel.
Alongkorn also said the Bank for Agriculture and Agricultural Cooperatives (BAAC) had requested financial assistance for growers and other agricultural businesses.
These concerns are set to be addressed through a number of measures including debt relief, debt restructuring and loans.