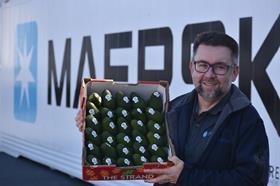 Australian avocado marketer TheAvolution has grown itsseafreight exports to Asia by more than 30 per cent (by volume)over the last 12 months.
Antony Allen, chief executive of TheAvolution,said advances in plant breeding and on-farmmanagement are creating a more robust product that can withstand the journey over water.
The company is also reaping the benefits of continuousin-transit temperature monitoring of its fruit, usinga supply chain monitoring service developed by Sydney-basedEscavox.
Allen said the technology ensures a much higher percentage of shipmentsare arriving in optimum condition, meaning superior quality for the end-consumerand less waste due to lost or degraded product.
"There's no doubt that we have a more robust product to begin with, but new technology that providesaccurate data in real time is giving us the confidence to send more of our productby seaover a wider geographical area globally,than we ever once thought possible," Allen said.
Escavoxtrackers are deployed with each shipment, capturing and downloadingdata continuously, providing a clear picture to TheAvolutionteam on what its fruit is experiencing on the supply chain journey.
Each tracker capturesinformation relating to time, temperature, location, light and humidity. The information is then relayed in real-time to a user-friendly dashboard on a PC or smart device, enabling The Avolutionto make quick adjustments while the product is in-transit, or use the historical data profile compiled over timeto make longer-term strategic changes to its supply chain arrangements.
Since starting the relationship withEscavox18 months ago, TheAvolutionis reaping the benefits of multiple data sets at its disposal, giving the business the confidence to expand its export footprint.
"We're doing this largely by seafreight, which is infinitely more complex logistically,but half the price of airfreight," Allen said.
"So,the investmentinEscavoxtechnologyhas produced two significant dividends for our business –it hashelpedincreaseour exports and reduced our freight bill."
In the last three weeks of June, TheAvolutionwas sending one shipping container, or 3,250 trays,of Hass avocadosfrom farms around Bundaberg and south-east Queensland to Singapore and Malaysia each week, a journey of 14 days. Product is also sent via airfreight to the two countries, plus Hong Kong and Indonesia.
From July,TheAvolutionwill sourceavocadosfrom farms in Victoria and South Australia before progressing to Western Australia.
Allen said the company is considering more export markets in the Middle East and Europe using seafreight.
"Markets that we once considered out of reach by boat are now well and truly in play," he said.
"It's important, especiallynow, that we have a high level of trust with those in our cool chain.We can't just hop on a plane to another country to troubleshoot a problem.
"The eyes thatEscavoxgives you on your product have never been more critical."