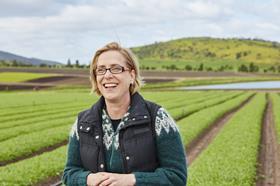 Australian-based Ag-Tech company, The Yield Technology Solutions, has been named in the 2020 Thrive Top 50 scaling and visionary AgTech companies for 2020.
Shortlisted from 3,000 global technology companies, the list highlights 50 companies that 'exemplify the best in agriculture and food technology around the world'.
Ros Harvey, founder and managing director of The Yield, said that she and the team were "delighted to have been included in this prestigious list of companies" which also featured several Australian agricultural and technology start-ups.
"This is a great honour for us. It is recognition of our efforts in delivering a world-class solution in weather predictions and yield predictions for our customers," said Harvey.
"Our Sensing+ solution combines sensors and analytics to provide information and predictions in easy-to-use apps that help large commercial growers make important on-farm decisions like when to irrigate, feed, plant, protect and harvest.
"Leveraging our customers' data sets, our Sensing+ Enterprise Analytics platform enables us to quickly and efficiently combine microclimate data to create AI models for things like Yield Predictions that drive significant commercial benefit for our customers," she added.
Companies that make the Top 50 are scouted, researched and analysed by the Thrive and SVG Ventures team, in collaboration with EY, Corteva, Land O'Lakes, Driscoll Berries, Kubota, Taylor Farms, Trimble, Yamaha Motors, and others.
The companies and start-ups are scouted for exemplary leadership, technology, and traction, and selected based on alignments with specific organisational criteria and industry pain points outlined by corporate partners.
The final 50 companies are organised into six main technology categories, including biotechnology, connected devices, cloud services/SAAS, robotics and automation, next-gen farms, and big data and analytics - and seven problem areas, including health and nutrition, labour, farm management, environmental sustainability, food safety, traceability, and e-commerce.
The Yield is categorised under big data and analytics and farm management on the Top 50 list.
Ros Harvey will attend the annual Thrive innovation summit at Santa Clara University in Silicon Valley, which will feature a keynote announcement from Stephen Censky, US deputy secretary of agriculture.
The event convenes top leaders, investors, start-ups, and scaleups in the AgTech and foodtech space and provides an opportunity to engage with leaders of Fortune 500 food and agriculture corporations scouting for the latest disruptive technologies.
Last week, Costa group announced it was extending its partnership with The Yield, a move that will see the leading Australian grower-packer-marketer roll out The Yield's Sensing+ solution across eight berry farms in New South Wales, Queensland and Tasmania.