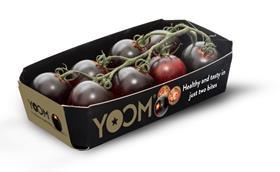 Syngenta Group China and Dole China have signed a new agreement that will see the latter exclusively distribute the Yoom and Nebula tomato varieties in China.
The agreement was made on 5 June when the two companies met on World Environment Day.
In addition to signing the new agreement, Syngenta and Dole China exchanged information and engaged in in-depth discussion about opportunities of Syngenta's MAP (Modern Agriculture Platform) in terms of production, technology, digitised agriculture and retail.
Trial amounts of Yoom tomatoes first entered the China market in November 2020 after its China debut at the China International Import Expo in Shanghai. Additionally, in a tie-up with Disney, the two varieties will be sold at Chinese supermarkets in brand new packaging featuring Disney characters in July.
Currently both varieties are grown at the Beijing Hortipolaris's planting base in Miyun City, Beijing. A planting centre authorised by Syngenta MAP is also built the park and works to bring new varieties, technologies and techniques to Chinese growers.