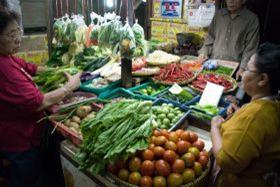 According to the Nielsen Indonesia 2012 Shopping Trends Survey, the country's traditional retail channels are still holding on to customer loyalty despite expansion of the modern retail sector.

The survey showed many Indonesians are reluctant to switch to new supermarkets despite the growth in the number of modern retail stores; 69 per cent of those surveyed said they went to the same store all the time, up from 57 per cent in 2010.

Wet markets are still dominant in the fresh categories (meat, fish and produce), as shoppers perceive the products sold in wet markets as fresher and cheaper.

Traditional 'mum and pop' stores are still the most used channel for Indonesian urban shoppers, even though the basket spending is much smaller compared to modern format trade, the survey indicated.

The frequency of shopper visits to modern retail formats remained the same compared to a year ago. However, the frequency of customers shopping at mobile produce vendors is increasing because of the convenience of the format for shoppers.

The survey showed that on average, a household spent Rp1.1m (US$115) per month on fast moving consumer goods (FMCGs). Fresh food comprised half of monthly spending on household daily needs.