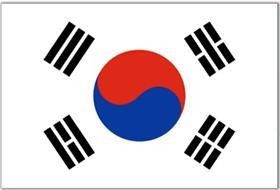 More than 760ha of orchards in South Korea's South Jeolla province have been damaged by typhoon Muifa.
One of the worst hit areas was Naju in South Jeolla province, which accounts for 20 per cent of the country's pear production.
According to the ministry of agriculture fisheries and forestry, over 10 per cent of Korea's pear growers experienced premature fruit drop with some farms losing 70 per cent of their crops.
The Korea Rural Economic Institute estimated pear production would fall by 23 per cent this year and cause prices to spike ahead of Chuseok – one of the country's major holidays – when demand for fresh produce typically increases.
A staff member with supermarket chain Lotte Mart told the newspaper the weather would affect supplies of fruit for the festival this year."Securing fruit supply has got harder because of the heavy rains and typhoons and we're expecting a 30 per cent hike in pear prices."
According to the newspaper the apple industry has also been affected with Jangsu in North Jeolla Province losing around 20 per cent of its crop.
Meanwhile national news service Arirang reported persimmon and fig orchards were also damaged by the storm.