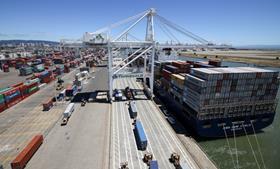 The six largest ports on the west coast of the US have sent a letter to US President Donald Trump, sharing their concerns that the US-China trade war could cause irredeemable economic harm.
The Port of Long Beach, Port of Los Angeles, Port of Oakland, Port of Portland, Port of Seattle and Port of Tacoma all co-singed which urged Trump to pursue fair and mutually beneficial trade agreements.
The ports outlined how it would not just be their own operations at risk of harm but the all who have a connection to the ports.
"As the largest ports on the US west coast, we are writing to share our concerns that the long-term impacts of the escalating trade conflict between China and the US will create irredeemable economic harm to employers, workers, residents and international partnerships along the entire coast and throughout the country," the letter said.
"US trade policy impacts not only our core businesses, but also the success of our customers, and the livelihoods of our local communities.
"Collectively, our trade and logistics operations employ hundreds of thousands of family-wage workers whose jobs rely on dependable trade flows. In addition, the cargo handled at our ports flows to and from every corner of the country."
The Northwest Seaport Alliance, which is a partnership of two of the ports that signed the letter, the port of Seattle and Tacoma, noted the trade war could change the trade landscape.
"The chaos of the current trade war is one of the most prominent risks ahead. Exporters are losing market opportunities through increased tariffs on sales to China, said Stephanie Bowman, co-chair of The Northwest Seaport Alliance.
"Changing global trade routes could mean fewer west coast imports as supply chains shift away from China,"
The alliance also highlighted the decline in trade to China from the Pacific Northwest for some items of fresh produce.
Exports of potatoes to China from The Northwest Seaport Alliance and Seattle-Tacoma International Airport have declined 16 per cent while exports of cherries have declined 54 per cent.