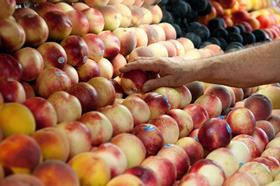 Vietnam has granted access to Australian peaches and nectarines following the finalisation of a new protocol.
The breakthrough comes as a major boost to Australia's stonefruit export industry, which had prioritised access to Vietnam for the two products.
Peak industry body Summerfruit Australia and the Australian Department of Agriculture, Water and the Environment (DAWE) have been in negotiation with Vietnam to establish a protocol for peaches and nectarines for the past five years.
In an Industry Advice Notice (IAN) on the DAWE website, assistant secretary of the Plant Export Operations Branch, David Ironside, said the negotiation process culminated in a "virtual visit" in January 2022 between the department and Vietnam, enabling a protocol to be agreed.
The protocol includes a systems approach for managing a number of pests; cold treatment for fruit fly; and irradiation as an end-point treatment. Each of these measures can be used alone or in combination, such as a systems approach together with cold treatment, or a systems approach and irradiation at a set level.
Orchards, packhouses and treatment facilities must be accredited to ship to Vietnam under the protocol.
The DAWE said it would work closely with Summerfruit Australia to facilitate some limited trade for the remainder of the current export season, which should run into April, by undertaking the necessary accreditation and auditing process.
Trevor Ranford, CEO of Summerfruit Australia, told Fruitnet the industry was very pleased with outcome of the negotiations, particularly given the difficulties the world has faced with the Covid-19 pandemic. "Our thanks go to the representatives from Vietnam, DAWE, DFAT (Department of Foreign Affairs and Trade) and the industry who have worked hard to achieve this outcome," he said.
"While we have the protocol, there is substantial background work to be undertaken over the coming weeks before any trade will occur."
Growers and exporters are reportedly excited by the opening of Vietnam to peaches and nectarines, particularly given its reputation as a market that pays a premium for high-quality fruit.