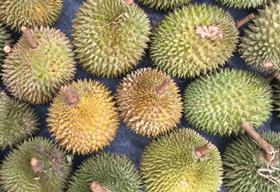 Vietnamese authorities hope to soon gain a foothold in China's lucrative durian market following recent negotiations.
According to a report from Vietnam News Agency, Vietnam has completed negotiations with China on quarantine protocols and is now waiting for official export licences to be approved for durian.
The report said China is already Vietnam's largest export market for durian as frozen and processed Vietnamese durian currently is shipped via unofficial channels. Official approval would provide a siginficant boost for Vietnam's industry.
Le Thanh Tung, deputy director of the Department of Crop Production, said negotiations had been in the final stages in 2019, but were delayed by Covid-19.
According to Vietnam's Ministry of Agriculture and Rural Development, export licences can only be granted to durians from growing areas and packaging facilities approved by the General Administration of Customs of China.
However, these areas and facilities must meet increasingly strict standards set by Chinese authorities around sustainability, traceability, food safety and quality.
Ngo Tuong Vy, deputy director of Chanh Thu Fruit Import Export Company, said complying with these strict regulations posed the biggest challenge for Vietnam's durian industry. Ngo said investing in appropriate infrastructure and increasing collaboration between growers would be key to improving standards.