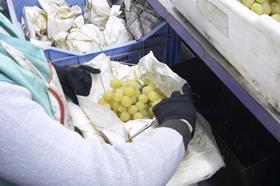 Spain's 2020 table grape export campaign to Vietnam has begun, marking the start of the first full season since it gained access in 2018.
The first shipment of grapes from the Murcia region in 2020 departed for Vietnam on 9 July, according to Fepex. Shipments to Vietnam areexpected to continue throughout this year's season.
After gaining access Spain prepared for its first full season of exports by completing a number of successful test shipments in 2019.
Trade missions, which saw Vietnamese importers visit Spain and production companiesMoyca, El Ciruelo, Frutas Esther, Uniland, Frutas Torero and Hispagroupvisit Vietnam, were also held.
During the visit, Vietnamese importers expressed a strong interest in Spain as a potential new source of table grapes in the June to October window.
In a release, Fepex said the prospects were good for the 2020 season as favourable conditions in May and June and has produced normal volumes.