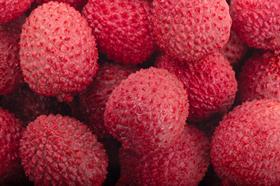 As the season begins, Vietnam's lychee industry has plans in place to manage the disruptions caused by coronavirus (Covid-19), such as the loss of the Japanese market.
Japan granted access to Vietnamese lychees at the end of 2019 after five years of negotiations and plans were in place to commence exports in 2020 but the pandemic created a roadblock.
According to a report from Saigon Giai Phong, authorities from Japan's Ministry of Agriculture, Forestry and Fisheries have been unable to visit and certify treatment facilities and as a result, Vietnamese lychees cannot be exported to Japan in 2020.
This challenge comes after months of disruption at the Vietnam-China border, restricting fruit Vietnamese exports.
Tran Quoc Khanh, deputy minister of Vietnam's Ministry of Industry and Trade (MoIT), told Saigon Giai Phong that as of 1 May China's Guangxi province customs processing times have returned to normal. However, customs at the northern border gates were at capacity which could still affect the export of fruits.
To address these challenges Vietnam's Ministry of Agriculture and Rural Development (MARD) has formed a delegation to work with lychee growers and authorities from key production regions such as Bac Giang and Hai Duong provinces, which account for more than 50 per cent of the country's lychee production.
It will put in place positive and proactive solutions, to help lychee growers to enjoy a bumper crop with high prices and prepare for what Nguyen Xuan Cuong, agricultural minister of Vietnam, said will be unavoidable disruption to the market caused by the pandemic.
Duong Van Thai, chairman of the People's Committee of Bac Giang province, told Saigon Giai Phong this season's harvest is set to begin on 20 May and run until July. The province is expecting to produce around 160,000 tonnes of from 28,100 ha of lychee orchards, a similar volume to the 2019 season.
Duong said if the worst-case scenario eventuates and the province's lychees cannot be exported, the industry will focus on the domestic market because and its potential consumer base of 100m people.