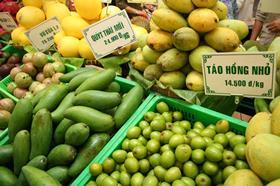 Vietnam's fresh fruit and vegetable exports exceeded US$1.5bn in the first six months of 2020, representing a year-on-year decline in value of 14.5 per cent, according to Vietnam's Ministry of Agriculture and Rural Development.
A report published by Vietnam News Agency indicated China remained the number one destination for Vietnam's fresh produce, accounting for 60.8 per cent of all exports in the six-month time period, however value dropped 29.2 per cent compared to the same period last year.
Exports to a number of other markets increased during this time. Earnings from Thailand topped US$57.8m in the period, increasing by 244.1 per cent, while Korea accounted for US$54.6 million in value, up 25.4 per cent.
Shipments to Japan and the Netherlands rose 26.4 per cent and 28.3 per cent to US$46.2m and US$28m, respectively.
According to the report, the reduced value is largely due to the impact of coronavirus (Covid-19), with exports of fresh and processed fruit and vegetables expected to rebound in the last six-months of 2020, once the pandemic has been brought under control.
Meanwhile,Vietnamese bananas will be made available by Korean retailer Lotte Mart for the first time in 2020. Its estimated 1,600 tonnes will be imported by the retailer for Korean consumption.
Asiafruit is now available to read on your phone or tablet via our new app. Download it today via theApp StoreorGoogle Playand receive a two-week free trial along with access to previous editions.