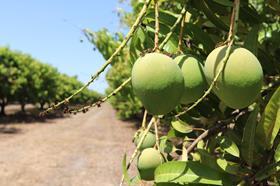 The Ord Irrigation Scheme, a plan designed to develop part of the nations' tropical north for intensive irrigated agriculture by harnessing the waters of the Ord River, is set to bring Western Australia's largest mango orchard back to life.
The ABC reports the orchard, formerly known as Galango and situated on the outskirts of Kununurra, a key mango production region of Australia's top end, has the potential to produce up to 1m trays of fruit per year.
The 120,000 Kensington Pride and R2E2 trees have suffered from multiple changes in ownership and management over recent years, with the property sitting idle since the end of 2019.
The property's new manager, Steve Angel, told the ABC he hopes to turn this farming operation's chequered history around.
'It has unlimited potential; on the size or scale I think it's in the top five in Australia,' he said. 'The farm hasn't had any consistency or love over the years [and] we're just trying to resurrect it. We have a vision going forward of being able to produce good, consistent fruit over a period of the next three to four years.'
Angel formed Swag Mangoes Rural with a group of investors last year who have been in negotiations to buy the property from the Galati Group. Tony Galati, known to many as the Spud King, bought the farmland from the receivers of the failed Rewards managed investment scheme in 2012. Four years ago the property was leased to Darwin-based growers, who decided to walk away from the operations in late 2019.
Angel told the ABC he had put considerable time and investment into reviving the deteriorating orchard over the past 12 months, with some of that work beginning to pay dividends.
'When we started, we had to redesign a whole fertiliser and watering programme,' he said. 'We're trying to incorporate a bit of science to get microbial activity in the soils … and we're breeding flies to pollinate.
'I had to learn a little bit about breeding flies but you can actually physically see the results on the trees that had a good fly breeding programme.'
Angel is confident a good wet season would result in up to 300,000 trays of fruit this year, with the R2E2 variety on track for picking next month.
'We have quite a few of the chain stores that are very interested in what we're doing ...[and] we're looking to export to Singapore, Korea and possibly the US,' he said.