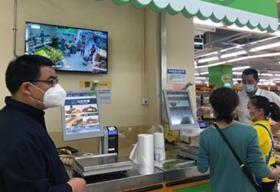 Walmart China is adding new self-service scales that use artificial intelligence (AI) to identify fruits and vegetables to improve efficiency and consumers' experience.
Malong Technologies' RetailAI Fresh is being installed in 100 Walmart stores across China.
The technology differs from regular scales by removing the need for consumers to search through multiple screens to choose the product being purchased.
Instead Malong's technology accurately identifies the product without any change to normal customer or shopping behaviour, even if items are within multiple layers of clear plastic bags or other protective materials.
Consumers are then greeted with a 'one-tap' ready ranked list to select on the screen, allowing them to print their payment label and complete the process quickly and easily.
According to data from ten Walmart stores that have already installed the technology, the average weighing time was reduced by approximately 40 per cent.