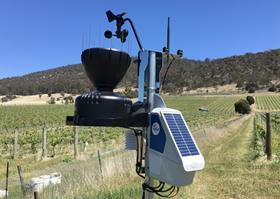 Venture capital groupYamaha Motor Ventures & Laboratory Silicon Valley (Yamaha Motor Ventures) has led an A$11m capital raise round for Australian ag-tech company The Yield Technology Solutions.
The investment will aid the development of The Yield's proprietary digital application, Sensing+, which provides microclimate data and predictive insights to support decision making for large commercial growers in the specialty crops industry.
Yamaha Motor Ventures, the business development and investment arm of Yamaha Motor Co, leveraged its global domain expertise in high-value horticulture in identifying The Yield as an investment opportunity.
"For several years, Yamaha Motor Ventures has scrutinised the global ag-tech sector as the food supply chain, particularly specialty crop production, is ripe for disruption," said Nolan Paul, the partner responsible for leading global food and ag-tech investmentsat Yamaha Motor Ventures.
"Based on our domain analysis, we selected The Yield as a best-in-class solution in delivering predictive insights for specialty crops, making it a very attractive opportunity for the Yamaha Motor Exploratory Fund.
"The Yield is poised to be The Climate Corp of horticulture and we look forward to supporting the team's strategic plan to scale its data-driven solution to the global specialty crop market."
In a further vote of confidence, The Yield's major shareholder, Bosch Group, has converted its existing loan into equity in the company.
"It's great to see The Yield getting traction and attracting such investment," said Gavin Smith, president of Bosch Australia. "There is no doubt, Agriculture 4.0 is coming of age, and Australia is poised to play a leading role thanks to companies like The Yield."
Ros Harvey, founder and managing director of The Yield, said she was "delighted" with the investment and support offered by the two global technology organisations.
"This is recognition of our efforts in delivering a world-class solution in weather and yield predictions for our customers," Harvey explained. "Technology is critical in delivering security, particularly in light of current disrupted food supply chains.
"Our Sensing+ microclimate solution helps customers to work largely remotely in managing the needs of their crops and manage labour requirements. It facilitates the uptake of automated robotic operations in farming and remote management of dispersed assets.
"Additionally, by leveraging customer data sets, our Sensing+ Enterprise Analytics platform quickly combines data to create AI models for things like yield predictions, that drive significant commercial benefit for customers."
Under the subscription agreement, The Yield'scurrent capital raise round is open to new investors until the close date ofThursday, 16 July 2020.