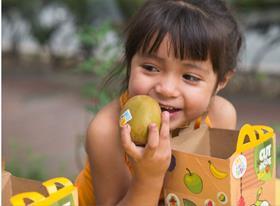 Zespri has joined forces with McDonald's to supply the fast-food giant with kiwifruit for its Happy Meal deals.
At present, only customers in Mexico will find a Zespri SunGold Kiwifruit from New Zealand in their Happy Meal box, a product which is aimed at children.
The kiwifruit will come with a 'spife', (a combination of a spoon and a knife), and will be available in more than 400 McDonald's Mexico branches from this weekend (13/14 June) for the remainder of the month.

Zespri general manager, Carol Ward, said:"We sell in 54 countries around the world, and this is a world-first for Zespri, which will result in sales of more than one million pieces of this sweet, juicy fruit.
'Zespri SunGold Kiwifruit is full of goodness, with one SunGold providing all your daily recommended vitamin C, and we're confident Mexican parents will appreciate this healthy addition to their children's diets.'

Félix Ramírez, director of corporate communication for McDonald's México, said:"McDonald's in Mexico is searching for suppliers that are governed by and adopt our high standards of hygiene and quality; for us, the fact that we are incorporating products such as kiwifruit into our range of options is synonymous with evolution and our commitment to Mexican society.'
A SunGold advertisement will also play on McDonald's own channel, McTV, in branches during the promotion, and McDonald's staff will receive training about Zespri and SunGold.

Ward added: "Mexico is a sophisticated fruit market and consumers have responded really positively to the sweet tropical taste of Zespri SunGold Kiwifruit. Mexico is a relatively undeveloped market for Zespri; we're forecasting sales volumes of around 750,000 trays in Mexico this season, up by 50 percent from last season.

"This marketing partnership is a great step toward establishing both our brand and gold kiwifruit, which is largely unknown in this region, to families across Mexico. This is part of a broader strategy to introduce our new premium product and its powerful health benefits to new markets around the world."