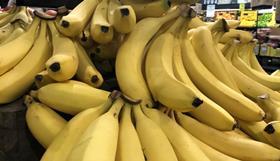 Essex-based Winfresh UK has gone into administration.
Duff & Phelps were appointed at the stricken business, which supplies retail and foodservice customers with bananas from the Caribbean, on 23 July.
Joint administrator Michael Lennon said the highly competitive UK banana market had impacted the company in terms of volume and pricing. 'As a result, the financial position of the company has become untenable and mounting cash flow pressures resulted in the appointment of the joint administrators,' he continued.
Lennon, along with fellow joint administrators Sarah Bell and Philip Dakin, are reportedly in contact with Winfresh's customers and suppliers and have not yet made a decision on the future of the business. It is understood up to 70 staff work at the company.
'Dog eat dog environment'
Winfresh UK was incorporated in 1994 and in its most recent accounts, for the year to 29 December 2018, the business posted a turnover of £50.1m, down from £57m the year before.
However, in a sign that there were troubled waters ahead, the company reported an operating loss of £1.6m, representing a huge swing from the £1.6m profit it made 12 months earlier.
In an extraordinary report accompanying the accounts, directors lambasted the 'truly cut-throat, dog eat dog environment where loyalty and relationship count for little or nothing, where everything is transactional and where the most ruthless - not necessarily the fittest - can survive'.
The report, signed by director Bernard Cornibert, slammed the low price of bananas at retail, the volatility and uncertainty of the fresh produce market, and the negative economic impact of Brexit.
In a further portent of what lay ahead, auditor Rachel Wilden of Ernst & Young stated that the trading loss, along with net debt of £3.97m, indicated that there was significant doubt over the company's ability to continue as a going concern.