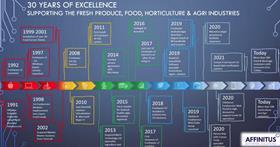 Affinitus, UK-based business management software solutions provider for the food and horticulture industries, is celebrating a milestone 30 years providing critical business management solutions to the fresh produce industry.
The company's solutions portfolio has continued to grow and evolve with the needs of the industries it serves, and today includes Freshware – ERP business management software for Importers, Wholesalers and Packer/Growers, Chefserve – business management software for the Catering supply and Foodservice Industry, FoodLogik – ERP for the bakery, meat and dairy sectors, as well as Horticultural and agri-tech solutions. Affinitus are in the right place at the right time with solutions for businesses at each stage of the food supply chain from Farm to Fork.
Paul Hardy, Founder and CEO of Affinitus said: "We have consistently developed, enhanced and looked after our clients and constantly re-imagined our software always leveraging the very latest, cutting edge technologies. In today's challenging times we are reaping huge dividends from our investment. More and more we are seeing clients from our competitors with legacy systems that have not been maintained and upgraded switching to our solutions. I am very excited for the future of Affinitus and the future of this wonderful industry we are proud to support."

Affinitus Group design and develop market-specific ERP Management software to the food service, fresh produce, bakery, meat, dairy, horticultural, logistics and warehousing sectors.