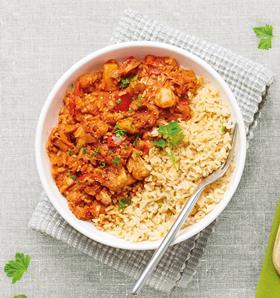 Aldi has beefed up its vegan offering for Veganuary, launching an array of new products to help shoppers switch to a plant-based diet at the start of 2020.
An impressive 3.5 million people are expected to take part in the event this year, with the discounter giving shelf space to a number of new meat substitutes and plant-based products.
Meat substitutes include fishless tinned tuna called Loma Linda Fishless Tuno, Plant Menu Vegan Sausage Rolls made with barbecued jackfruit, aLimited Edition Eat & Go Korean BBQ Style Chick'n Sandwich, Plant Menu Vegan Rosemary & Onion Sausages, Inspired Cuisine Vegan Ready Mealsincluding Mushroom Bolognese and Three Bean Chilli, and Plant Menu Vegan Pizzas with toppings such as BBQ Jackfruit, Spicy Cauliflower or 'Bacon' & Mushroom.
In addition, there will be more straightforward vegetable-based options such as anEat & Go Vegan Onion Bhaji with Sweet Potato & Cauliflower Wrap, Plant Menu Vegan Ready Mealssuch as Red Pepper & Mango Curry, Yellow Thai Curry and Smoky BBQ Jackfruit, and Specially Selected Vegan Parcelscontaining 'Spicy Firecracker Vegetables'.
For dessert the retailer is offering the Leone Vegan Choc Stickin two flavours: classic and almond.